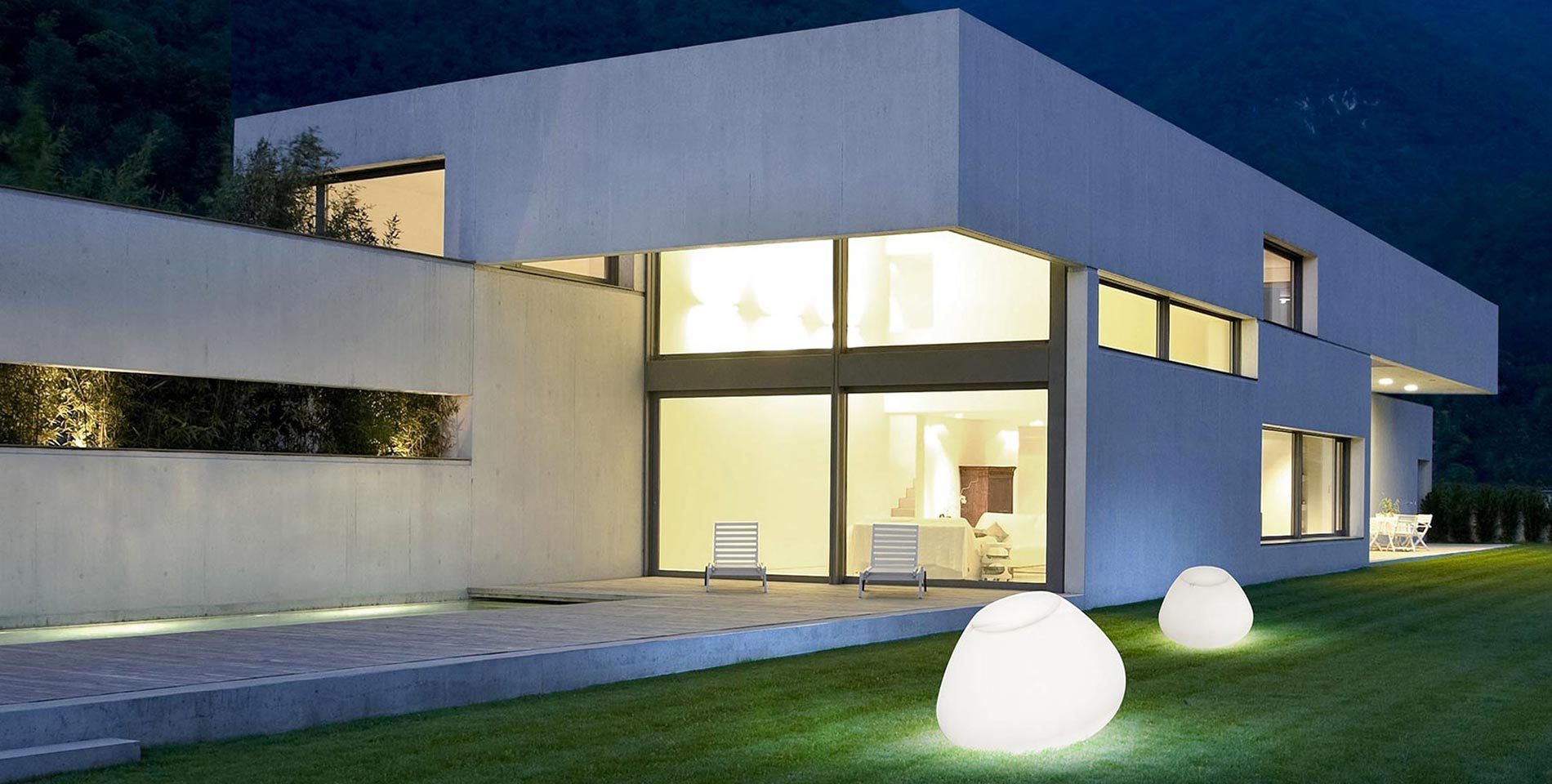 Outdoor lighting: how to illuminate summer evenings
14/06/2018
Examples of how to use our lamps for external home lighting.
How can personality be conveyed in exterior home lighting? Being able to design the right lighting outside is as important as that inside. The substantial difference between the two is that much less light is required outdoors than indoors. This means that lighting can generally be more theatrical, and less focused on its "mission".
OBJECTIVES OF OUTDOOR LIGHTING
In addition to ambient lighting, there are two specific factors that must be taken into account:
– That functional, to illuminate areas in which a specific activity takes place. For example, this may be a pendant lamp over a dining table or a light in the barbecue area.
– That of detail. You might want to highlight something in your garden: a tree, a pathway, steps, an architectural feature, a pond or a statue.
Once this is considered, the next step is to make a plan. Think about how you use your outdoor space, and what the different lighting requirements are for each area.
Choose lamps and spotlights designed specifically for outdoor use, with a degree of protection (IP) to withstand humidity, weather conditions and temperature changes. An example of such is Box, a wall and ceiling lamp in die-cast aluminum with a special antioxidant and anti-corrosion treatment, either round or square in shape.
GIVE LIFE TO YOUR OUTDOOR SPACE
The ambiance is fundamental in order to fully experience a garden in the evening; even the aesthetic appearance of lighting fixtures has its importance. Ralph is an outdoor lamp with a hand-woven synthetic rattan lampshade. It is a much appreciated solution both for residential use as well as public places, such as bars and restaurants.
It is available as a pendant lamp, table lamp, floor and rod lamp.
If you're seeking something that offers more than a solely decorative function, here is a lamp that can also contribute to furnishing your garden: Potter. It can be used inside or outside of the home, and serves as a seat as well as an element of color.
Lampyris is ideal for lighting gardens, parks and any outdoor environment where lighting is integrated into the landscape. The back of the appliance is set up to be placed on the ground, so there is an impression that the light shines directly from below. The effect is that of a luminous eye that turns on when the sun goes down.
OUTDOOR LIGHTING FOR THE HOME
Are you looking to illuminate the exterior of your home? Here is an example of the Draco installed in a villa in Moscow.
Four is also a discreet, minimal lamp, suitable for both indoor and outdoor use.
Would you like more information? Browse all of our outdoor lamps, where you will find all of the technical details required.
Vous pourriez aussi aimer