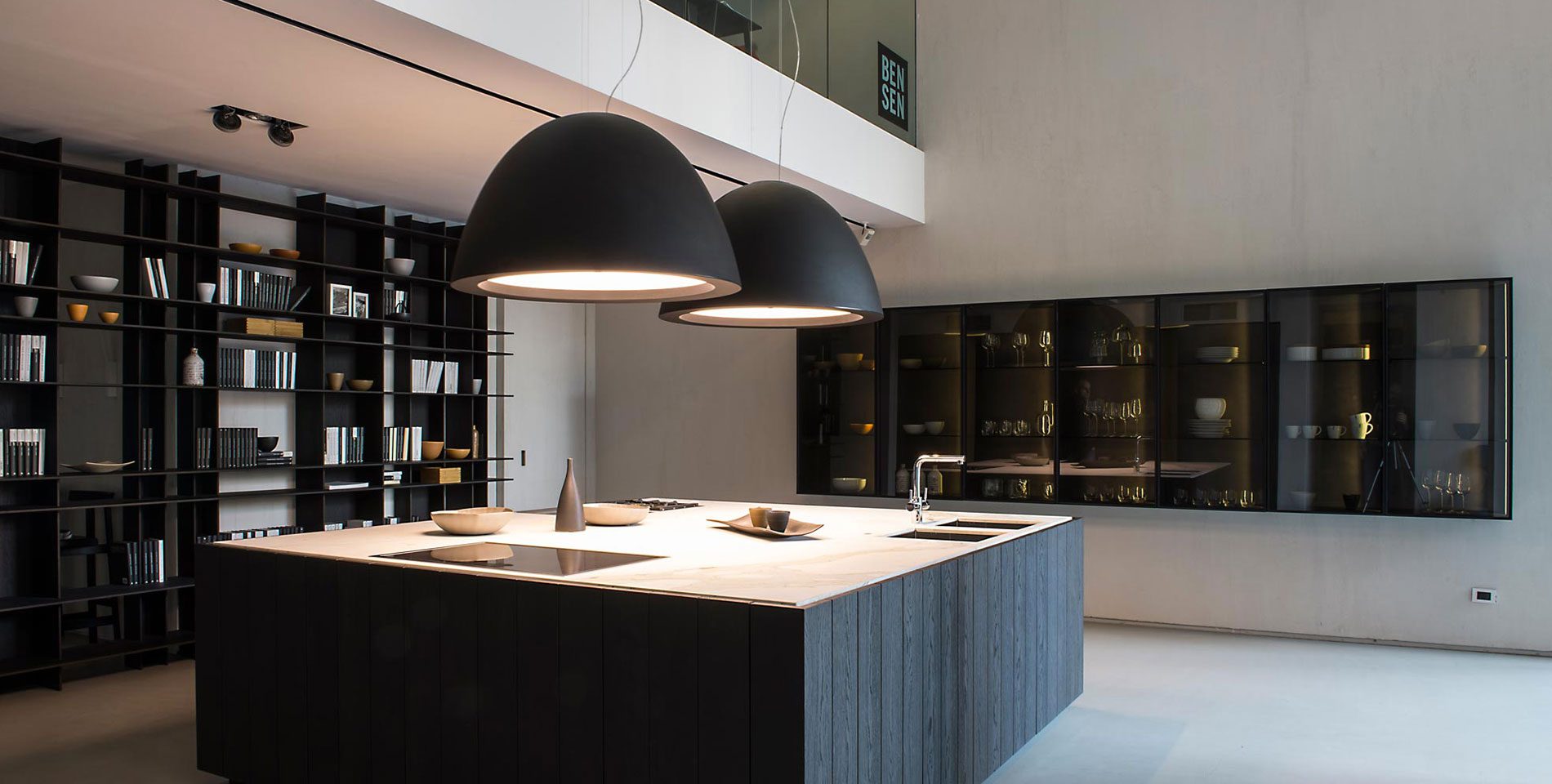 Kitchen lighting with Panzeri lights
16/04/2018
Decorative and architectural lighting: items to inspire you.
Lighting is usually underrated at home, even the kitchen. We focus on choosing furnishings, accessories, and appliances; and then, once we've put on our cooking apron, realize that there isn't enough light or that it's not quite right.
LIGHTING UP A MODERN KITCHEN
Cooking is a religion in Italy, as well as having lunch or dinner in good company. Correct lighting should serve to help prepare dishes and help check on food while it's being cooked; however it should also be atmospheric, to create the right ambiance for sitting at the table and spending precious time together.
Which are the right lights to use? It depends on the way that you live in your kitchen and on the room's features. Do you cook a lot and spend lots of time in the kitchen? Is your dining table also in the same room? Does it have an separate island from your main cooking area? Here is some basic advice to help you decide on your kitchen lighting:
– The ceiling lamp is important, don't skimp on its brightness.
– Consider where you will need your lights to be located, usually adjustable spotlights, so that your main work areas are well lit.
– If required, you can add further lighting under hanging kitchen cabinets and range hoods or on work surfaces.
– If your kitchen has a separate island, you can take advantage of it to create a lovely focal point for the room.
– If the dining table is in the same room, then table, wall, and floor lamps can be used to make a more relaxing atmosphere.
OUR LIGHTING ADVICE FOR THE HOME KITCHEN
Hanging lamps are the top choice of architects. To use this type of lamp, you must consider the lamp's minimum height, which regulations require to be 2.4m from the floor, including cable. This height helps limit the amount of glare, while also helping to ensure that table and kitchen worktops are well lit.
Keeping this requirement in mind, aesthetic quality can be maintained without losing out on the amount of functional illumination. Here are some concrete examples of applications:
To-be over dining table:
To-be over worktop surface:
To-be over table and worktop:
In the Modulnova showroom, our Willy lighting range was used like this: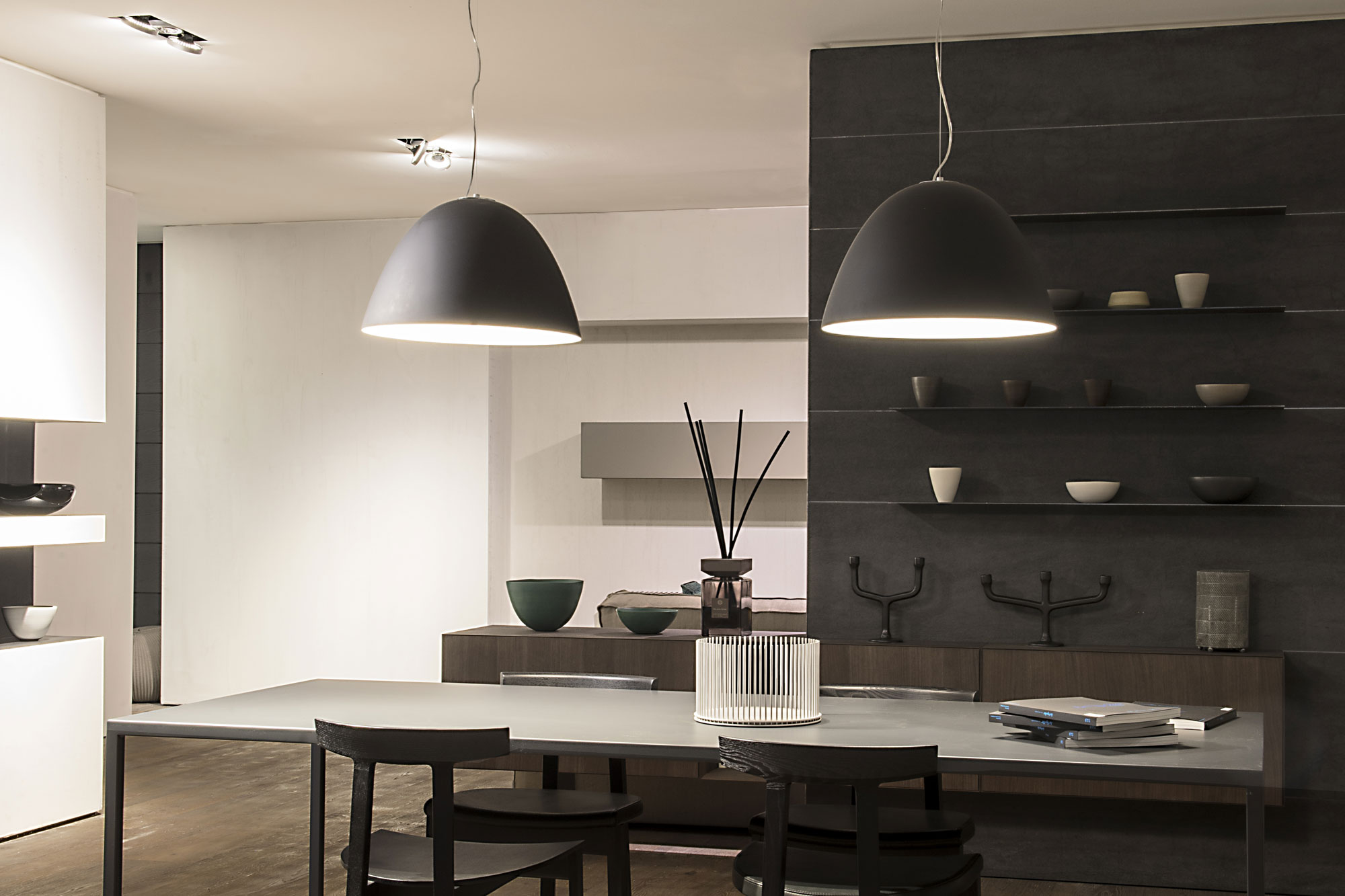 This is Emma and Clio, blown and colored glass:
We mentioned how ceiling lamps are important, here is how our Silver Rings are used in combinations of different diameters:
If there is a lot of space available, even high spaces, such as a loft, our Rings can be the ideal choice as a personal touch for the interior. As long as its size is in proportion to the room's area.
Architectural portraits and spotlights for kitchen lighting
If you have a large open space kitchen, you can have a functional as well as scenic setting, such as through the use of slices of light.
Our rchitectural profiles: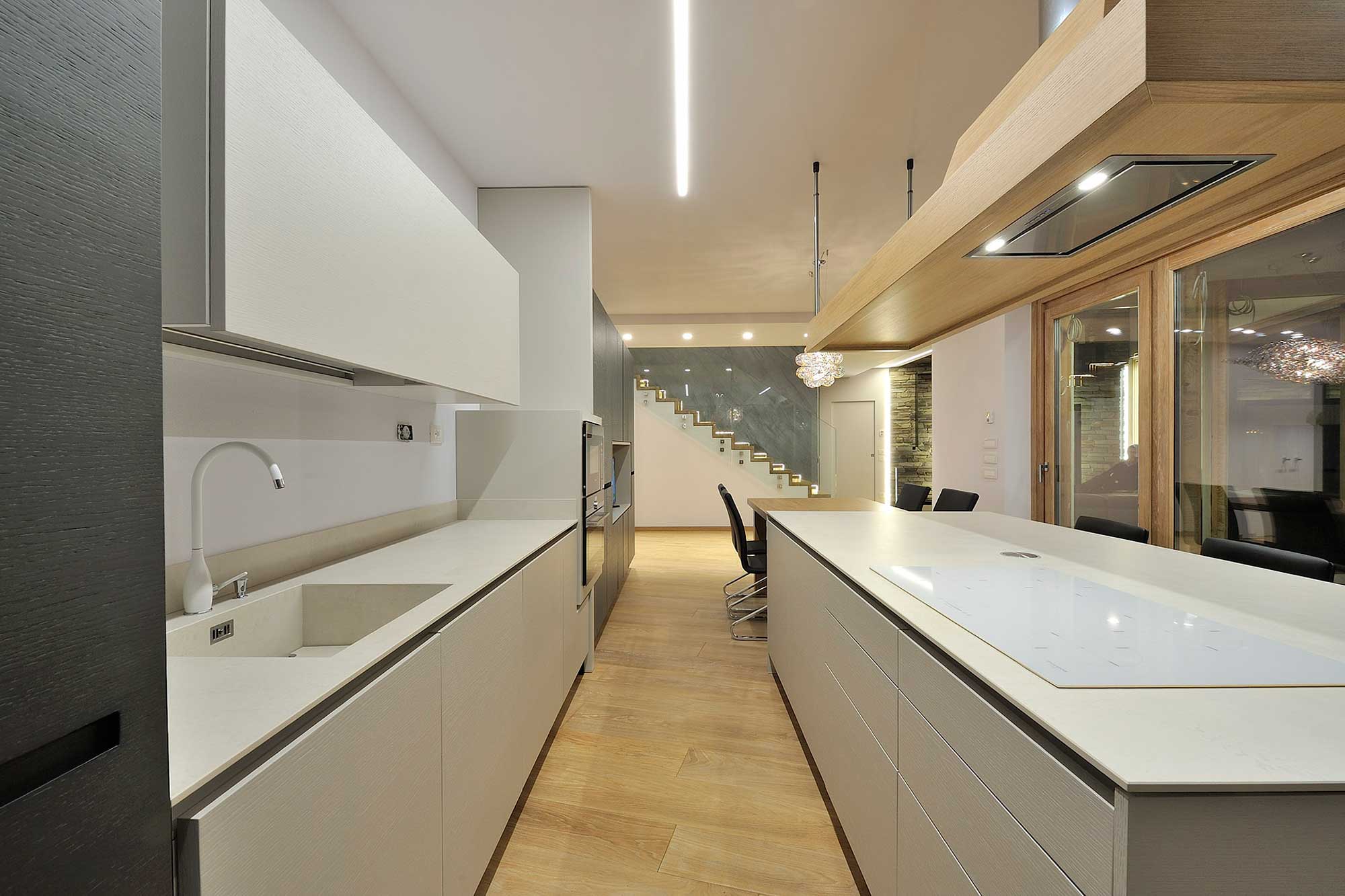 They can all be enhanced by using LED spotlights.
Spotlights on worktop:
Spotlights entire room:
ENTER THE "ENERGY OF LIGHT" COMPETITION, SEND IN YOUR INTERIOR DESIGN PROJECT
Creating projects for kitchen interior design that are illuminated by our lighting products. This is the idea behind the "Energy of Light" competition which we have set up with our Russian partner: Lighting Icons, with the architects at SDP Interior, and which is promoted at the Roomble.com website. The competition is aimed at kitchen interiors, particularly at the way lighting is set up in an area where people spend a large amount of their time at home. Projects can be submitted from February 1st to June 14th, 2018. Click here for details and prizes for winning entries.
Vous pourriez aussi aimer