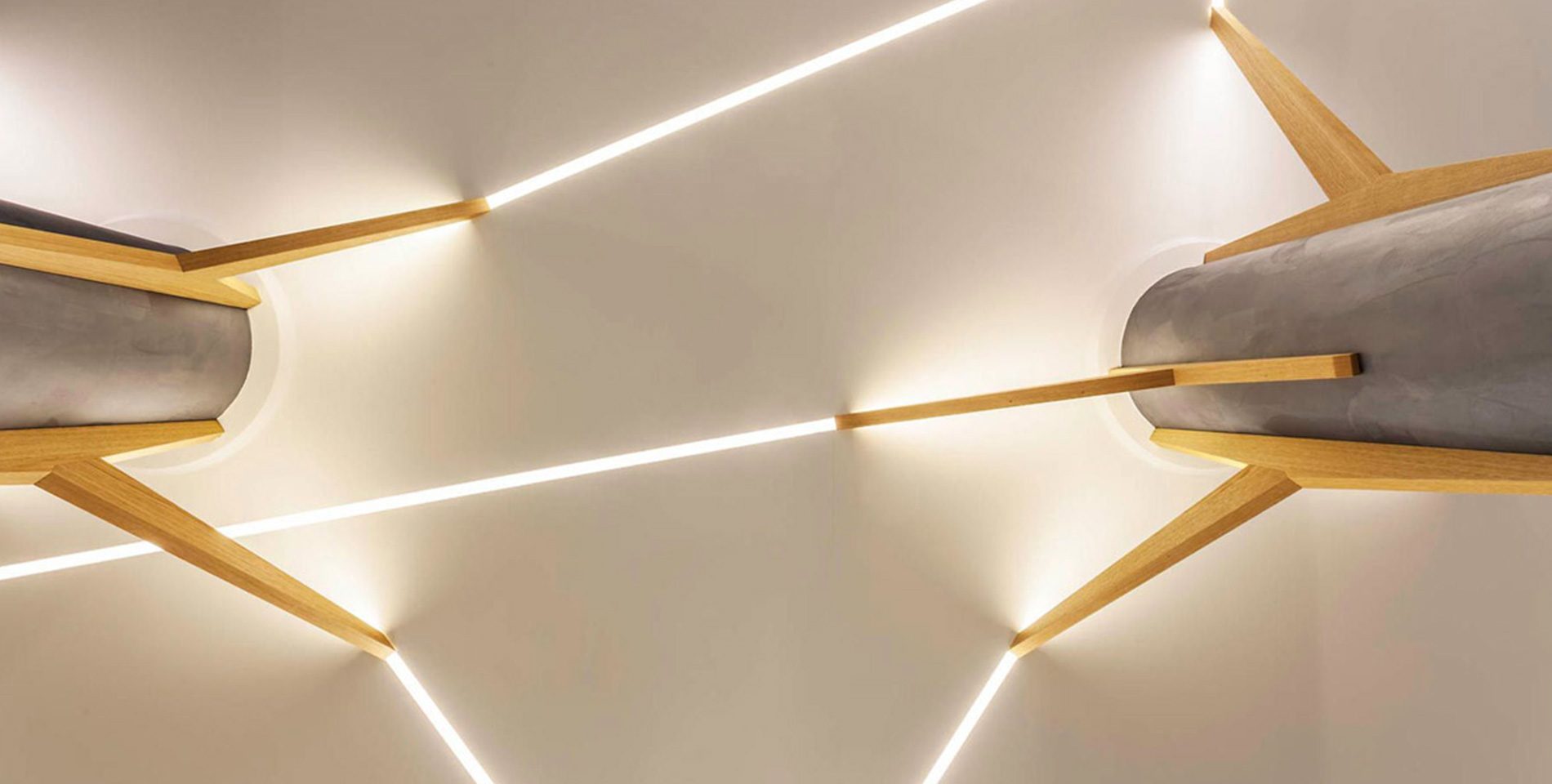 Architectural lighting, how to use light profiles
28/11/2018
Light beams and the play of light can be adapted to a variety of spaces: here are some examples to inspire you.
The choice of lightbulbs for your home can be more difficult than you think. The range of decorative lighting on offer is enormous and the designs come in a variety of fascinating shapes. Yet, if your living space is reduced, a common issue in big cities, you could make some different product choices.
If you also love minimalism and prefer something essential and unobtrusive, architectural lighting is definitely the right solution for you. What does that mean? It means focusing on a solution that keeps the quality of brightness, but prefers recessed or concealed lighting, or alternatively ceiling or suspension lamps, which can be fixed to plasterboard.
These modular systems in extruded aluminium are extremely versatile. The potential applications can be horizontal or vertical, and thanks to joints with 90° angles, even T or X. You can create smooth lines without the fittings causing any obstruction, even in the corners.
Do you want to adjust the light's intensity depending on your preferences, the time of day or your mood? Choose dimmable switches.
WHERE TO USE ARCHITECTURAL LIGHTING AT HOME
The right light profiles, alone or combined with pendant lamps, can create a modern light that easily competes with more traditional solutions.
You can use them throughout the apartment, in the living room or even the corridor.
This way, you can frame the spaces in a geometric manner that's always original:
If you choose bright light tracks along the floor, you can create a futuristic effect:
To make some areas of your home unique and original, use special angles:
PROFILES IN NON-RESIDENTIAL ENVIRONMENTS
Architectural lighting is not just a residential solution. Profiles are especially well suited to public spaces too. From a large Headquarters to trendy modern premises, the choice of lighting gives a modern and geometric touch to the architectural space, like in this Hall:
Or at the cinema entrance, which has just been revamped: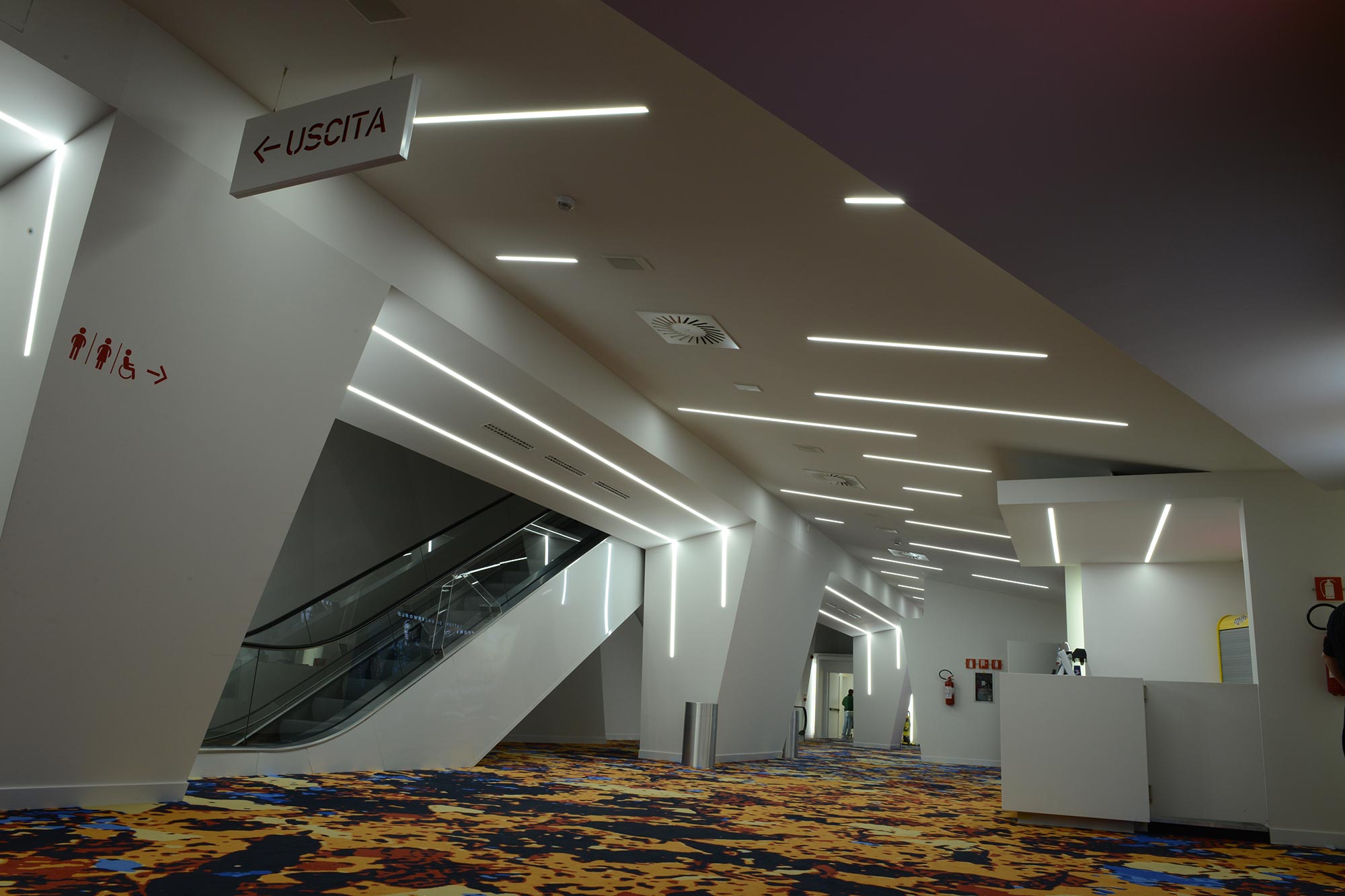 If you're creative, this choice of lighting can help give free rein to your imagination:
VIDEO: SEE HOW WE INSTALL OUR LIGHT PROFILES
rovi altre video guide sul nostro canale YouTube.
Pros and cons of architectural lighting
If you choose this type of lighting, these are strengths and weaknesses you need to bear in mind:
– Pros: minimal look and great light performance.
– Pro: versatility of use, use them on the ceiling, the wall or even the floor.
– Cons: you need some preparatory work or a false ceiling fitted.
Here are other projects from which to be inspired
– HMG Stones
– Hotel Hesperia Jesolo
– Private House Cuneo
Not just profiles. Discover all the other architectural lighting solutions that we feature, including recessed, recessed and spotlights.
Sie könnten auch Interesse haben an